Since 2007, IDC has predicted — and we've all witnessed — the emergence of the IT industry's 3rd Platform for innovation and growth, and more recently, its disruptive impact on every industry through the di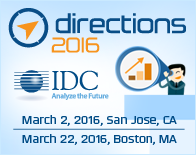 gital transformation (DX) it enables. What will be new in 2016? In a word: Scale. Scale will be the critical new ingredient in the unfolding battle for digital market success. In 2016, and over the next three to five years, we will see enterprises "flip the switch," committing to a massive new scale of DX and 3rd Platform adoption, to stake out leadership positions in the "DX economy." This scale-up of digital business strategies will drive more than half of enterprise IT spending within the next 24 months, rising to 60% by 2020.
At this moment, business leaders are being challenged to move their enterprises to the next level by employing digital technologies, combined with organizational, operational, and business model innovation, to create new ways of operating and growing their lines of business. Some enterprises are transforming the entire organization while others are, at least initially, focused on a single functional area. A company's ability to grow and scale via DX is driven by what IDC calls "innovation accelerators" — the ongoing expansion of disruptive 3rd Platform technologies that includes the Internet of Things (IoT), cognitive systems, augmented and virtual reality, robotics, 3D printing, and next-gen security, in addition to the core 3rd Platform technologies of cloud, mobility, social, and big data and analytics. This latest wave of technologies is critical to business transformation, as it allows companies to open new revenue streams, change the way work is performed, and power the momentum behind line-of-business technology spend.
As all these pieces of the 3rd Platform and DX landscape flip to a new scale, the IT industry's competitive landscape is certain to flip as well. Join us for Directions 2016. Register today and engage IDC analysts, via sessions and intimate sit-down opportunities, as they help you exploit the benefits of DX and how 3rd Platform technologies are used to create competitive advantage, critical to your success.
Early Bird Rate: Register by February 5, 2016, and pay just $495
*Note: Regular fee is $895 after February 5, 2016
For more general information, including the full event agenda, please visit: www.idc.com/directions.
For information about Directions 2016 in Boston, click here
For information about Directions 2016 in San Jose, click here